In the last couple of months, we've been on a quest to bring our customers the most requested additions and improvements to Knowledge in Back. With them, teams using Back can provide more helpful, relevant, and structured information to employees.
Before we dive deeper into what's new, let's start with a little refresher on Knowledge.
What is Knowledge in Back?
Resolving HR questions, IT problems, or any other internal requests with automated answers is a core part of our product. Employees ask Back a question on Slack, Microsoft Teams, or Google Chat. If your team has already written down a suitable answer in Back or a connected wiki tool like Confluence, our friendly bot sends it to the employee. Problem solved.
In a nutshell, Back gives your people easy access to all the relevant knowledge on how your company works. (Side note: Back does more than that: we also help you organize conversations in one place and automate employee journeys.)
More accurate automated answers
Whenever Back answers a request automatically, both the responsible team (HR, IT, Finance, etc.) and the employee save valuable time. It also helps minimize disruptions to our workday. With the latest algorithm improvements, Back is now twice as likely to suggest the correct answer. Plus, employees will see irrelevant results less often.
So keep those requests coming in, and let Back take even more work off your plate!
Segment and target your employees
Information overload is real, and the (digital) workplace is no exception. That's why it's crucial to get the right information to the right people, and only the right people.
With targeting for answers, our bot only sends employees information that's actually meant to them. Keep confidential data safe and decide who sees each answer based on location or role within the organization.
While applicable to any company, targeting for answers really shines in remote or distributed teams where different rules apply in different regions.
Introducing saved replies
To explain saved replies, we first need to understand the purpose of answers in Back. With answers, you're putting policies, guidelines, and FAQs at employees' fingertips. Back uses your answers to solve recurring requests automatically. You can also attach them to any reply.
But what if you want to customize the message or just insert a text snippet you frequently use? That's where saved replies come in handy. Next time your response is just spot on, add it as a saved reply and save your team some keystrokes in the future.
Rich formatting for answers
Some structure and formatting can go a long way in making content easy to scan and the critical bits unmissable. That's why we now support rich text for answers. Just edit them in Back, and they'll look great wherever employees view them, be it their email inbox, Slack, Microsoft Teams, or Google Chat.
Attach files to answers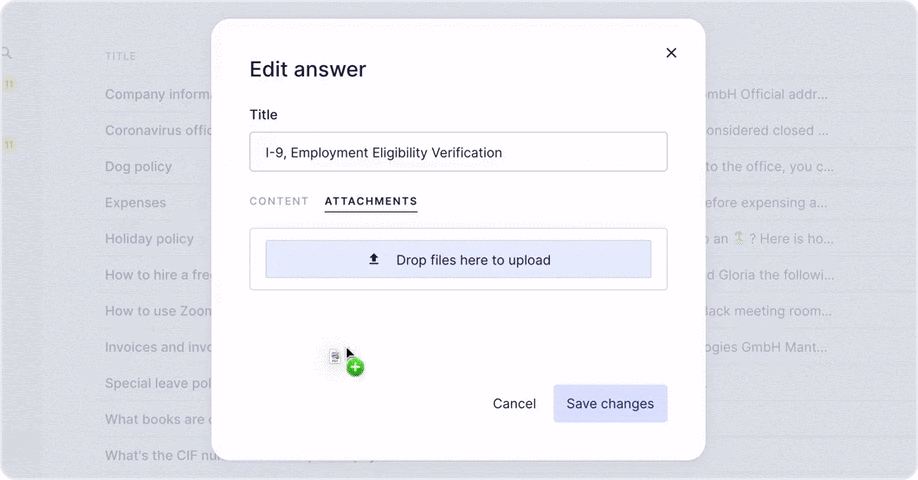 The right PDF or image can make an answer instantly more useful. Whether it's a government form or a screenshot showing how to calculate time off balance in your HR system, attachments are at your employees' fingertips. Gone are the days of easy-to-miss links to important docs and complicated explanations to simple problems.
---
Want to try the new features? Log in to Back if you're already using Back or request a demo.